Unfortunately, deep-sea vessels often had difficulty navigating the harbour mouth due to shifting sandbars which made access to the harbour increasingly difficult.

After 5 years of study, a project was developed to build a new 15 km waterway, the "Nieuwe Waterweg". It is a large canal dug in a straight line cut into the land.
The study was finalized in 1864 and work began in October 1866. The first ship used the new channel on 12 July 1872.
Nieuwe Waterweg Gemeenteatlas 1866-1870.
The marking of this new route was not sufficient. It consists of an iron hexagonal tower with a white light indicating the north and a red port entrance light indicating the south. Another makers was placed on Beer Island, south of the new shipping lane.

The increasing number of strandings and accidents forced the authorities to design a new navigation system. This consisted of marking the entry into the Waterweg and another for its exit. The two plans below show the new navigation markers.


Entrance line of the Nieuwe Waterweg.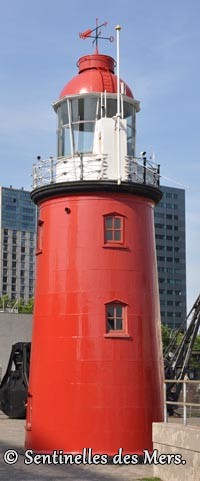 The front light was built in 1893. This small stone building was commissioned in 1894. It is replaced by a 14 m cast iron tower. This tower was lit on December 31, 1900.

It is located in Berghaven.


The first light made of cast iron is currently located at the entrance to the Maritime Museum in Rotterdam.

Description of the light.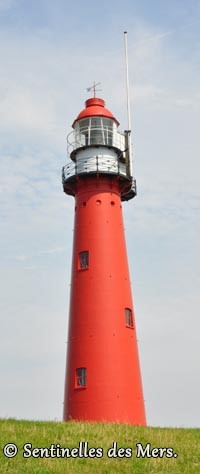 The rear light was also made of cast iron. This 26.5 m tower is lit on February 14, 1894.

This lighthouse is no longer in use but still exists.

Description of the light.
Exit alignment of the Nieuwe Waterweg.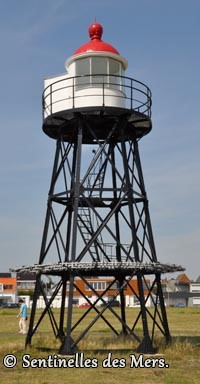 To mark the exit lane of the Nieuwe Waterweg, two lighthouses of metal construction were used. They were put into service in 1894 - 1895.


The rear light is located near the Boulevard Reine Emma (Berghaven) and the second near the front light. The new extension phase of the port made these lights obsolete.

They were deactivated in 1967. The rear light was destroyed by fire and the front light was moved to the resort of Kuikduin where it served as a tourist attraction.


Description of the rear light.